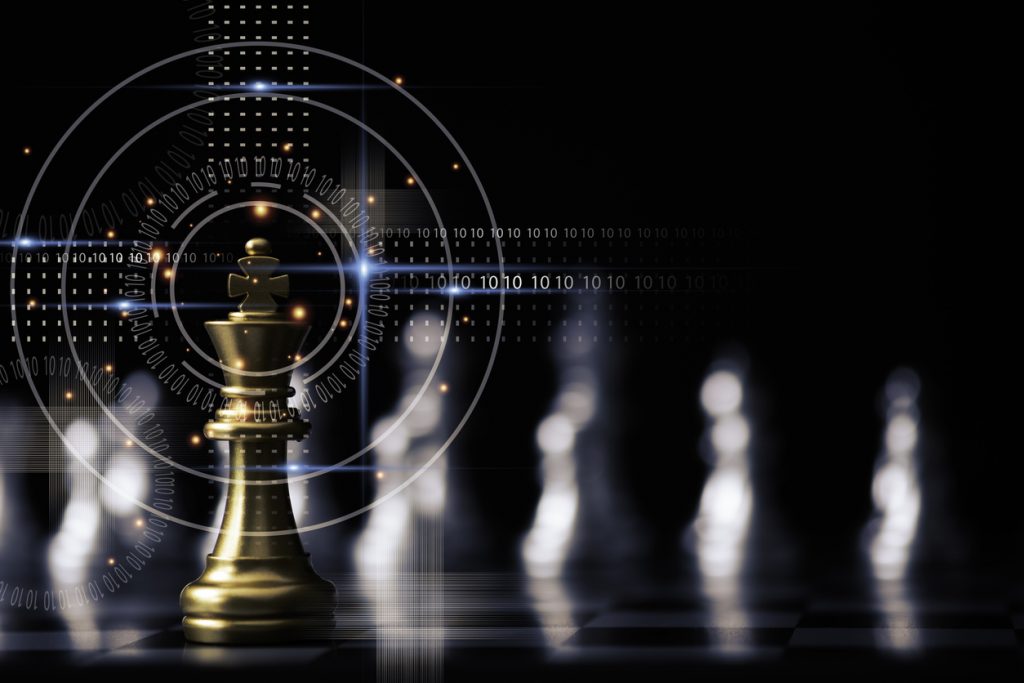 As the world gets tougher and things get crazier, more and more marketers are turning to AI-assisted Competitive Intelligence to track their competitors, the market, and overall industry trends.
Competitive Intelligence (CI) can be one of the most valuable tools in your marketing arsenal. It develops comprehensive profiles of your competitors and provides solid insights into their strengths and weaknesses. It helps you profile and prioritize new and existing markets. It identifies new trends, patterns, and opportunities you can leverage and spots risks and threats you should avoid. 
WHY USE AI FOR COMPETITIVE INTELLIGENCE?
Competitive Intelligence has been around for years, but with the use of Artificial Intelligence, it's faster, easier, and more thorough than ever. It's also much more accessible. Back in the olden days (aka five years ago), ongoing Competitive Intelligence was reserved for huge companies with the BIG bucks. Most everyone else did it casually, on a one-time or semi-sporadic basis. Now, it's economical for companies in all sizes and sectors.
Gathers oodles of relevant sources QUICKLY
AI is exhaustive in its collection of information. No individual nor team could match the thousands (millions? Bazillions?) sources and insights it gathers quickly. (The speed at which AI-enabled CI systems work is unsurpassed and one of the most significant benefits. No hyperbole.)
Prioritizes and Filters the Information
Ai can sift through the information it gathers and prioritize it based on your wishes, too. Need specific information for your Usability team? Filter it for UX and send it directly to them quicker than ever before. Same with Sales, Customer Service, Inventory, Merchandising, New Product Development, etc. With AI, it's easy to keep your departments focused on actionable information and improvements.
Provides More Comprehensive Information
AI works quickly at scale to provide you with ALL the data you need. We, humans, are great and all, but there's a limit to what we can keep track of, no matter how much assistance we have. With AI, you can get a 360-degree view of your competitors and market at the most detailed level. Zoom in or zoom out, depending on what you want to know. Plus, it's easy to compartmentalize what's most important to you.
Tracks Data in Real-Time
Marketers often underestimate this whole "real-time" thing, but it's one of the main things that separates traditional Competitive Intelligence from AI-assisted Competitive Intelligence. With AI, you don't have to wait for humans to compile the data and summarize their findings. You get past and current data and future predictions (if applicable) as they occur. You'll spot your competitors' moves and innovations much faster, and your trend information will also be available earlier.
Excellent at Continuously Policing Activity
With AI-enabled Competitive Intelligence gathering, you won't miss a thing! It's excellent at monitoring your competitors' changes to their sites, apps, contact programs, job boards, blogs, events, webinars, podcasts, and more. Plus, it can help you keep tabs on emerging thought leadership trends and ideas that are percolating within your market. 
Allows You to Evaluate More Competitors
You can get comprehensive information about the overall market, small and large competitors, and new and upcoming players with AI. You can also look at clients, suppliers, and events domestically and internationally. You can look at things as one big unit or as myopically as you'd like.
Customized To Suit Your Needs
AI allows you to choose what's most vital for you to track. As the system grows, it will also offer you new, innovative insights that you haven't thought of and/or tracked before.
Easy-to-Digest, Easy-to-Use Formats
One of the reasons why marketers like AI-assisted CI is because it's great at summarizing the data and putting it into a format that people can quickly consume and act upon.
Bespoke Analysis and Presentations
AI works at scale, collecting ALL the data. Then, it puts the data, trends, and insights into charts, tables, presentations, and so on – JUST THE WAY YOU WANT 'EM. You get actionable reporting that you'll actually use.
Effortlessly Translates Any Language
Need global information? Not a problem! AI can translate any language.
Improves with Age
Last but certainly not least, AI continues to learn and grow as time goes on. Your AI-enabled Competitive Intelligence system will work for you 24/7/365. When properly trained, it will over improve time and spot things humans don't. (Plus, it will never quit!)
WHAT ARE THE DRAWBACKS/WEAKNESSES OF USING AI FOR COMPETITIVE INTELLIGENCE?
There's no beating around the bush! You still need human intervention. People don't need to do all the gruntwork, but their strategy and oversight are still required. This is important to note if/when you review outside vendors/platforms. The "whole set-it-and-forget-it" thing many spout is a pipe dream. Someday humans won't be necessary, but for now, human brainpower is required.
Artificial Intelligence lacks context. When it's clear, concise, and easy to understand, it's typically spot on. When the meaning is unclear? Not. So. Much. Sadly, it's not yet great at telling you what it knows and what it doesn't. Companies are working around some of the issues (ambiguity, false positives, and so on), but it's still a limitation you'll need to address. Incidentally, this is why humans are required.
Without proper training and supervision, it can run amok. Again, you can't build and bail on AI. You need to establish a solid foundation, and then you need to maintain it. AI-backed Competitive Intelligence is still less time-consuming than old-school CI, however.
Technology is constantly improving, which is good overall, but it can be exhausting for someone who has to deal with a seemingly endless stream of changes. The juice is worth the squeeze on AI, but admittedly, it can sometimes feel like a hug from a boa constrictor.
WHERE CAN AI COLLECT COMPETITIVE INTELLIGENCE INSIGHTS FROM?
Anywhere and everywhere! News, websites, social media, job boards, blogs, product reviews, events, webinars, podcasts, thought leadership, etc.
WHERE DO MARKETERS USE AI COMPETITIVE INTELLIGENCE?
Marketers use AI-powered Competitive Intelligence in all sorts of places:
Tracking Prices and Price Changes (Increases and Decreases) 
Keeping an eye on special offers, promotions, and coupon codes (this can be very fruitful!)
Determining how competitors are using the different channels and which ones they're spending money on
Monitoring Customer Reviews and Social Media (Reach, sentiment score, thought leadership, announcements, viral possibilities, and such)
Merchandise Alerts (New product introductions, moves to overstock/clearance, back in stock, price drops, predictions on brands/categories/lines that are growing/shrinking, and so on)
Brand differentiation (used by new and existing businesses)
Keyword Tracking
Newsjacking and special PR efforts
One of the best-kept secrets for eCommerce companies? It's absolutely KILLER for PDP evaluation. Product Detail Pages (PDPs) can be a veritable goldmine of information – reviews, Frequently Asked Questions, pricing, content, visuals, and associated tagging, social proof inclusion, feature presentation, and so on. Savvy marketers use it successfully for benchmarking and downright, er, drawing inspiration from.
WHAT ARE SOME GOOD TIPS FOR DEVELOPING AN AI-ASSISTED COMPETITIVE INTELLIGENCE PLAN?
Determine your goals. It amazes me how many companies fail to do this. And not just the small ones either; we have clients with HUGE market intelligence departments with very murky goals for their competitive intelligence programs, or, you know, no goals whatsoever. It's easy to outline what kind of information you're going to track, but it's more important to figure out what you will do with the information. Are you capturing the data for comparison or because you're going to act on it? Either answer is ok, and if you're going to read and react to the data, you may want/need to look at different things.
As an aside, with AI-enabled CI, the data is more bountiful and current – which means that more divisions/departments may want access to it. When setting your objectives, make sure to determine who wants to use the information/insights and what they will do with it. Setting some of this stuff up right from the jump is much easier.
Identify the competitors you feel are relevant to monitor. Word to the wise? Don't just use your traditional list. One of the best things about AI is that it's easier to track more competitors than you usually do. Make two or three tiers of competitors that you want to pay attention to. Direct competitors should be your first tier. The remaining tiers can be filled with your secondary and tertiary level competitors. Or some prefer to separate direct vs. indirect competitors or large vs. small competitors. Other marketers track new and up-and-comers separately or look at competitors by SIC code/vertical. Of course, you need to do what's best for you. Just ensure you'll get solid information you can use from/about whatever buckets you set up.
Determine all the places you want to look at. Blogs, websites, social, news, webinars, podcasts, offline channels (TV, radio, newspaper, magazines), financial reports, thought leadership, etc. Make a list of all the sources you want to use to gather information. If some sources are more important to you than others, note that.
Decide what you want to track. You probably already captured some of this when you were making your Goals list, but it's essential to double-check to make sure everything – and everyone – is properly represented. After you have your complete list, make sure to prioritize the variables. What's most important to you? At this time, you may also want to add some qualifiers. For example, you may want to look at all the news data as far back as you can, but prioritize the data from the last three months. Or you may want to track all the pricing data and prioritize the data you get from the past year, with an eye to changes in the past 60 days.
Measure your results. Analyze, read, and react! A rough idea of how you want to analyze and present the information can be helpful, especially if you're starting out. That way, you'll have skeleton reporting to flesh out.
WE'RE LOOKING AT A NEW COMPETITIVE INTELLIGENCE VENDOR. HOW DO I COMPARE THEIR EFFORTS VS A HOMEGROWN, IN-HOUSE, AI-ENABLED SOLUTION?
I get a variation of this question at least a few times weekly.
First, it's important to note that many of today's leading competitive intelligence vendors use AI. They may have their own AI-enabled system for collecting insights, or they may white-label someone else's product. How they're built is helpful to know. You'll also want to see if they're simply a web scraper or genuinely providing value to the information they're harvesting. (This point is critical. There are too many bait-and-switch vendors in the CI space.)
The best way to compare solutions is to get sample data on a small topic. However, you'll need to build, train, and pack the models to do that; often, that's not an option. (When it is available, it's typically the best choice.) So, most marketers focus on budget and resources instead. How much would it take to build a solution in-house vs. using an outsider vendor? What type of team do you need to maintain it on an ongoing basis inside vs. outside? Does the outside vendor offer anything you can't provide – benchmarking data, for example? How often is the product/service updated? Are they working with any of your competitors? (Read more about Choosing AI Vendors here.)
Frankly, most times, it comes down to budget and talent. It's important to note that the talent you'll need to run things in-house versus an outside vendor can be wildly different. Also, when comparing inside to outside CI, you need to consider ALL the technology that supports the system, not just the system's build.
Organizations that use an outside service often want the expertise and/or resources of the outside vendor, or they don't have the right people internally. Incidentally, AI has streamlined the filtering and dissemination process, so if all departments manage their CI process(es) independently, it can be the most efficient choice.
Want to know more about the magic behind the curtain of AI-assisted Competitive Intelligence? Read about Natural Language Processing here.
Have questions or comments about building an AI-enabled Competitive Intelligence Program? Already have a CI program and some tips to share? Tweet @amyafrica or info@eightbyeight.com.