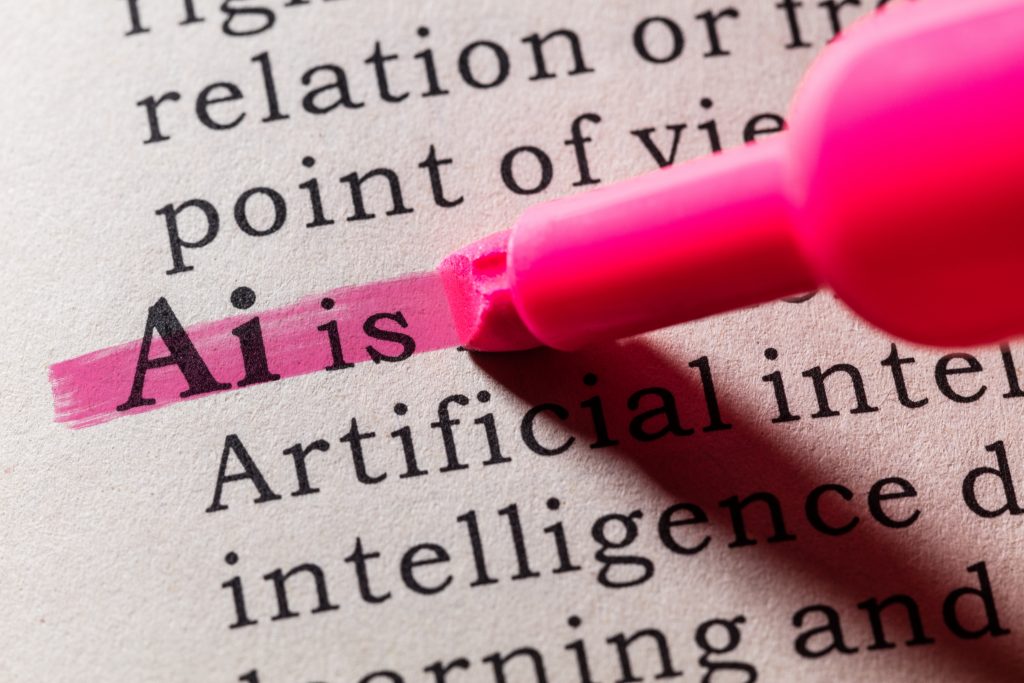 "The theory and development of computer systems able to perform tasks normally requiring human intelligence, such as visual perception, speech recognition, decision-making, and translation between languages."
But what does that mean to YOU, as a marketer?
In a nutshell, AI is smart software and hardware that makes machines humanlike. It allows them to see, hear, move, speak, write, and understand. (The latter is limited capacity for now… not for long, though!)
It's excellent at gruntwork, processing and analyzing oodles of data in real-time and at scale. It excels at automating repetitive tasks to help you make smarter, faster decisions.
It's a prediction powerhouse. It collects data and visitor insights to anticipate the next moves. (Yours and/or your visitors.) It looks for patterns. It learns by example. It invents and tests. Reads (analyzes) and reacts (predicts.)
AI is an interdisciplinary science; its entire world is the data we give it. For now, it does what we tell it to do. We give it the goal, and it figures out how to reach that goal through trial and error.
AI HAS THREE MAIN ASPECTS
There are many aspects to Artificial Intelligence, but the three main parts are vision, speech/language, and prediction.
Vision includes things like image recognition and analysis, facial recognition; and emotion/movement detection.
Speech/language includes natural language processing, generation, and understanding. It also encompasses things like translation; voice generation and recognition; text analysis, extraction, and generation; speech-to-text and text-to-speech; sentiment analysis; and more.
Prediction includes things like personalization, forecasting, and pattern recognition.
MARKETING AI IS NUANCED
People talk about AI as a machine… as software… as intelligent design… and so many other things. When marketers talk about AI, we mostly refer to it as added and/or smarter intelligence. Marketing AI leverages your data, machine learning, algorithms, and such to help you improve and optimize your efforts, increase your revenues, and meet/exceed your goals.
MARKETING AI HAS MANY ADVANTAGES 
These days, one of the most frequently asked questions from marketers I get is: "What are the 'real' pluses and minuses of using Artificial Intelligence?" Pretty much every businessperson already uses AI in one way or another (spam filters in your inbox, for example), but I get the reason for the question… Discussions of AI/ML are very similar to the "WORLD WIDE WEB" discussions in the 90's – mostly technical; "Welcome to Snoresville" boring; or seemingly too sci-fi/fantasy; and definitely something you imagine "putting off for a bit…."
Things are moving a lot faster now than they ever did before, though. If you want to stay/get competitive, it's essential to get up to speed, so here's a short list of some of the pros and cons of Artificial Intelligence and Machine Learning for marketers.
MARKETING AI PLUSES
From a marketing perspective, there are lots of pros of Artificial Intelligence: 
Saves time and money. Automates repetitive tasks. Reduces headcount. Increases productivity.
Maximizes ROI. Predicts and targets shopping behaviors and decisions, which, in turn, reduces sales cycle and transaction times. Allows you to quickly pinpoint where things are getting stuck.
Enhances segmentation. Allows you to treat users where they are at in the inquiring/buying cycle. Develops a hierarchy that separates apostles, multi-buyers, buyers, abandoners, and inquiries/prospects. Reduces sales cycle and transaction times. Beneficial for conversion and optimization.
Shows you what your customers truly need/want instead of what you think they might need/want. Improves user experience. Opens new markets. Helps you make better decisions faster.
Targets offers. Creates better content and messaging. Streamlines imagery/design.
Creates bespoke experiences for every individual who browses, buys, and connects with you to increase your LTV (lifetime value) and your top-line revenue. It allows you to be thorough and cohesive in your approach, from your emails and SMS to your websites and call centers.
Helps you make more informed decisions. It improves your targeting, trials for perfection, and predicts success. It helps you focus on the things that will move the needle in your business. Best of all, it does this without delay, so you'll get accurate, up-to-date information.
Enhances your testing efforts. Allows you to test thousands, even millions, of elements at once, from BIG swings to very small ideas that can make a HUGE difference.  (This is especially true in your cart/checkout.)
Optimizes your pricing to increase margin and/or sell more stuff (your products/services) to more people.
Makes your advertising smarter and, frankly, much more effective. You can use it to improve your creative; perfect your bidding; create dynamic ads; provide actionable analysis, and more.
Helps creates new products and improves existing ones. Enhances features, functions, and/or performance.
Maximizes your customer retention efforts and streamlines your new inquiry/lead generation methods. Profiles and builds models for new customer acquisition, reactivation, loyalty, and more.
Generates additional, SEO-friendly, accessibility-ready content to increase engagement and streamline your team's efficiency. Builds better experiences for both the traffic drivers (search and social engines, for example) and your users.
Helps optimize speed, performance, and accessibility easier and faster than before.
Works for you 24/7/365. It's faster, more efficient, and it makes fewer errors than humans. It's especially good at ongoing projects involving identification and automation – image recognition, for example.
Gets more valuable as time goes on. The Machine (or system, if you prefer) learns as it grows. The learning itself can be positive, negative, or indifferent, depending on a myriad of factors, but the key here is that it's continuously scooping up information and hidden insights that you can use immediately.
Comprehensive reporting. One of marketing AI's best secrets is how much it can improve your tracking and reporting. AI processes and analyzes all the data you can throw at it (and then some), yielding more accurate and actionable information. Plus, it gives you more control which is incredibly beneficial in today's world.
Improves customer satisfaction and sentiment. Enhances users' self-service capabilities. Improves productivity of your Customer Care team.
Accelerates learning. Juggles a lot of balls at the same time. (Far more than most humans can.)
Versatile. Can be used in the awareness, consideration, purchase, and loyalty stages.
Flexible. Allows you to be one-to-one and not one-size-fits-all.
And more! Lots, lots more!
CURRENT MARKETING AI DRAWBACKS AND NEGATIVES
Marketing AI has lots of pluses and some minuses too:
Unchartered territory. There are still many unknowns.
It can be biased and/or offensive.
It tends to oversimplify human interactions, often resulting in missing/lousy content.
Computers don't have instincts. They learn through introduction. Someone (a human) must do the introducing.  This takes more time (and, frankly, energy) than most people allocate.
Algorithms are often sold as "set it and forget it." They're not. You need to train them, and you need to maintain them. (Algos that have run amok are one of the most common problems in AI/ML marketing implementations.)
Set-up can be a bear. Artificial Intelligence doesn't function/exist without a human first setting it up, and the initial process is a  monster if your data is a mess.
There aren't strict definitions yet, so even a box of rocks can be sold as "intelligent."
Typically, it doesn't work if you have an abysmal churn level.
Vendors tend to sell it to you for what you SAY you want it for.  (Which is often different than what you need it for.)  It's typically not a good fit if you have a super clear signal. Sadly, a lot of marketing AI is sold to/for people with crystal clear signals.
In Marketing, there's a realistic floor for many things you'll want to do. If you don't have enough page views/time spent/etc., it may not work.
WHAT'S THE DIFFERENCE BETWEEN ANI AND AGI?
There are two distinct types of AI…
Artificial Narrow Intelligence (ANI) is programmed to perform one narrow task, such as playing a game of chess. This is the type of AI we have today – algorithms and programmatic responses that simulate intelligence. Siri and Cortana are considered narrow AI. Even though they do it real time, they use a specific, predetermined data set(s). 
Artificial General Intelligence (AGI) refers to hypothetical machines that can perform all the tasks a human can. (In other words, what you see in the movies.) Intended to think independently, AGI is built with the "always learning and adapting" human brain as the archetype.
ANI is often referred to as Weak AI and AGI as Strong/True AI.
You can read more about ANI and AGI here.
WHAT ABOUT MACHINE LEARNING?
Machine Learning (ML) is a subset of Artificial Intelligence that enables software to become better at predicting outcomes without being explicitly programmed. Machine Learning algorithms use historical data to make predictions about future outcomes. Machine Learning powers things like translation apps; traffic alerts, chatbots; fraud detection; video surveillance, and so on.
Have tips you'd like to share about using Artificial Intelligence in your business? Questions you'd like to ask? Tweet @amyafrica or write info@eightbyeight.com.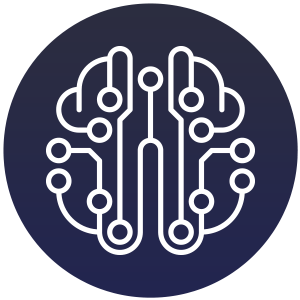 A Personal Note:
In the interest of transparency, I don't think there's anything artificial about artificial intelligence. Yes, it's a different form of intelligence than ours (humans) but it's a misnomer, and frankly short-sighted, to think it's fake. The supposed logic behind the word "artificial" is that artificial can also mean "made or produced by humans rather than occurring naturally" or "a copy of something real/natural." The ship has sailed on the definition and AI, as we know it, has long moved past being a "copy" of anything. Plus, the good stuff is not really "made or produced by humans."
I'm stating this here because when we consume knowledge about AI, I think it's important to know where the writer/speaker stands about what AI is today and where it's headed. This helps the reader/listener (YOU!) determine if they're on the same page when it comes to urgency, privacy, security, bias, data standards, etc.