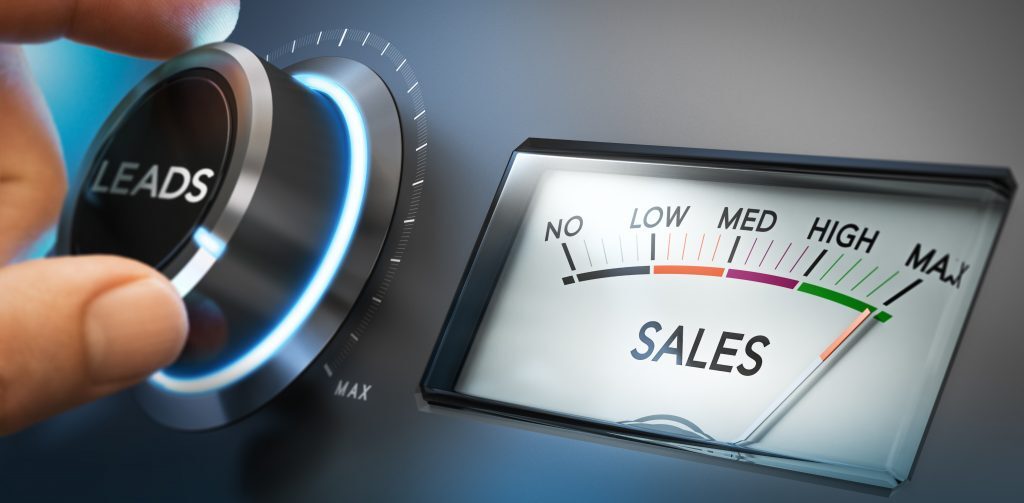 Now that it's hitting marketers that the company with the best data wins, they're finally taking their lead generation efforts more seriously. (Insert angels singing here.)
First, what's considered an inquiry or lead?
Anyone with a propensity to act and/or specific interest that raises their hand and starts a dialog with you. Don't worry; they don't have to literally raise their hand and talk to you; they just need to give you something of theirs that has market value. This could be signing up for your emails/SMS, requesting a quote, registering for a webinar, downloading a white paper, adding themselves to your catalog mailing list, filling out a survey, asking a question, chatting, and so on.
Make sure you're asking for an inquiry on every 1-1.5 screens, and definitely at the top of your site and bottom. If you want to use a pop/modal, that's your business, and you still need to have your inquiry capture on your site. This is especially important if you drive traffic from Shopping or Social directly to PDPs.
If you use a Pop/Modal, you should only show it to people whose information you don't have/need updated. (In other words, asking for email sign-ups immediately when someone comes to your site from their clicked email is not advisable.) You should also ensure that all your pops/overlays are built for a mobile site and that you are getting the bang for your buck you need from them. They cause friction, which neither the search engines nor humans respond well. Cats probably like them. They seem the type.
Remember, to be successful at generating leads; you need to ask many different ways.  Asking for just newsletter sign-ups limits the number of inquiries you get because not everyone wants/likes them. What other things would your users be interested in? Signing up for back-in-stock or price drop notifications?  Advance notice on sales? Reminders on upcoming events? Access to forums and messaging channels? Updated safety information? A sneak preview of the latest and greatest version of X? A private podcast preview room?  You might need to try several things before you come up with some dependable alternatives, but they'll be worth it.
You should also keep track of the people who do things on your site – for example, browsing a product detail page or abandoning a cart. 
Besides repeatedly asking for sign-ups, what else can you do, and where can you use AI?  Here are some of the most successful ways marketers use artificial intelligence in their lead generation efforts…
Lead Validation
You're right. Lead Validation is not a sexy topic. However, it's first because it's more critical than ever and too many marketers still have it on their Rainy Day lists. When you get a lead from your website, call center, sales/CSR team(s), or anywhere else, you should ensure it's been through a hygiene process. This takes less than a second. This is an area where AI excels. Not to mention, it's very affordable. Hygiene will ensure the lead is legit, clean up any typos, and enhance it with other data if you're so inclined. This happens inline so you catch errors before you start onboarding them.
Rank Leads Based on Their Propensity to Buy (aka Lead Scoring)
Most companies have a method to their madness for scoring leads based on budget, need, timing, purchase authority, and so on. Rankings are usually on 1-3, 1-5 or 1-7 scales, with leads manually sorted into buckets. This manual process is inefficient and often inaccurate, with salespeople cherrypicking the hot leads and leaving the rest to die on the vine.
Tools using Artificial Intelligence & Machine Learning streamline the lead scoring process. By using predictive lead scoring methods based on historical data, current information about the customer and the products/services they are interested in, and the reps and channels available to service them, AI-powered lead generation systems prioritize what leads to close when and by whom. This saves you time and yields you far more bang for your buck from your lead generation efforts by extracting actionable insights and creating a solid pipeline of leads. (Nurturing your "not-hot-now-but-will-be-in-the-future" leads is critical in today's landscape.)
Conversational Chatbots and Instigated Chat
You already know that companies big and small are utilizing chatbots to help answer customer service questions but did you know that many marketers are using them for lead generation as well? Yep. It's true. Artificial Intelligence software allows you to spark conversations with guests on your site. Maybe you want to instigate chat with highly engaged visitors who haven't purchased yet (HENP); perhaps you want to provide extra assistance for people you've identified who are about to bail in your lead forms, or maybe it's something else altogether.  Whatever reason you want to engage with your visitors, AI is there to help you.
Your chatbot can be a yes/no simple style (pre-set to answer a bunch of the most frequently asked questions on your site) or something more complex. It can be proactive or reactive. It can be aggressive (upselling and cross-selling at every turn.) It can qualify the leads enough to route them directly to a salesperson. It can rank leads based on entrance channel and subsequent activity and then get them to the right place/person where they're most likely to close. Or something else altogether.
Unlike humans, chatbots will do precisely what you tell them to do. They'll ask every pre-programmed question you want the answer to; they'll answer every lead – instead of just ignoring some because they're in someone else's area or they've dealt with them in the past. Chatbots will also improve user engagement on your site. They're great at identifying which format each particular visitor responds to best: email, SMS, video, call from Customer Service/Sales rep, and so on.
IBM suggests that chatbots can reduce customer support costs by 30% and handle up to 80% of customer queries independently. They allow you to have 24/7/365 online support should you want/need it. Even better, though, is that AI-enabled chatbots learn with every guest interaction. This means that they get better/wiser as they get older.
Enhances Information About Your Visitors  
We spoke above about lead scoring, but one of the coolest things about AI-assisted lead generation is that you can classify all your visitors far more precisely. This goes for leads, quotes (if applicable), and buyers. Instead of just the regular ole' demographic-type overlays that many marketers append, you can enhance your leads with information about everything your user does or browses on your site. This unlocks patterns that you've likely never seen before – things like which specific user paths/behaviors are more likely to purchase; what length of time and specific information you need on Product Detail Pages you'll need for best conversion; which is expected to sign up for which type of lead (emails, SMS, mailings, webinars, surveys, etc.); etc.
Use this more robust data to convert more leads; target your leads more precisely; create stickier sites; execute bespoke marketing campaigns; build better profiles; provide more accurate segmentation and analysis; and more.
Hyperpersonalized Lead Nurturing
Most companies have a standard process for dealing with their leads. The process is typically different for B2C and B2B. Either way, hot leads usually get plucked off fastest (B2B), and everyone else gets a canned process. For example, Lead X gets a Welcome trigger series and then dumped into the regular blast program. Lead Y receives a Thank You for Signing Up Email with a couple of reminder follow-ups for a webinar, a thank you for attending, and then dumped into the regular program. We can go through many scenarios, but you already know that many of your leads end up in a canned program at some point.
AI-enabled Lead Nurturing changes all that. It allows you to properly care for your leads with on-site things like Chatbots/Instigated chat, personalized recommendations, prioritized reviews, and so on. Then, after the user has left the site, it will follow up with them thoughtfully to keep them engaged until they are ready to purchase. (Trigger emails, SMS, outbound telemarketing, etc.)  Addressing your users' unique interests and/or specific pain points has repeatedly proven to be much more effective, especially in hypercompetitive markets. 
Trigger email programs and SMS are often crucial to successful lead generation programs. They have better inboxing, higher open and clickthrough rates, higher AAUS (Active Average User Session), and better adoption. Emails are another area where AI can take a good program and make it spectacular.
Improved Analysis
One of the best ways that Artificial Intelligence helps your lead generation efforts is by straight-up providing you with more comprehensive data and analysis. AI/ML Tools are far from perfect and yet very useful for delivering more objective lead reporting. They're also excellent at spotting patterns that marketers miss. Start by finding out what you have available to you now, identify the gaps you most want to fill, and then look for software/services that support you.
Artificial Intelligence can be used to save you time and make you more money in many of your lead generation areas: hygiene and validation; ranking leads based on their propensity to buy; managing inquiries while they're on your site; personalizing recommendations and journeys; routing them for proper follow-up; creating bespoke customer experiences; enhancing your information; increasing your blast and trigger email results; improving analysis; and more.  What else? Where are you using AI/ML in your lead generation efforts?
Have a tip you'd like to share? Have a question you'd like to ask? Tweet @amyafrica or write @info@eightbyeight.com.