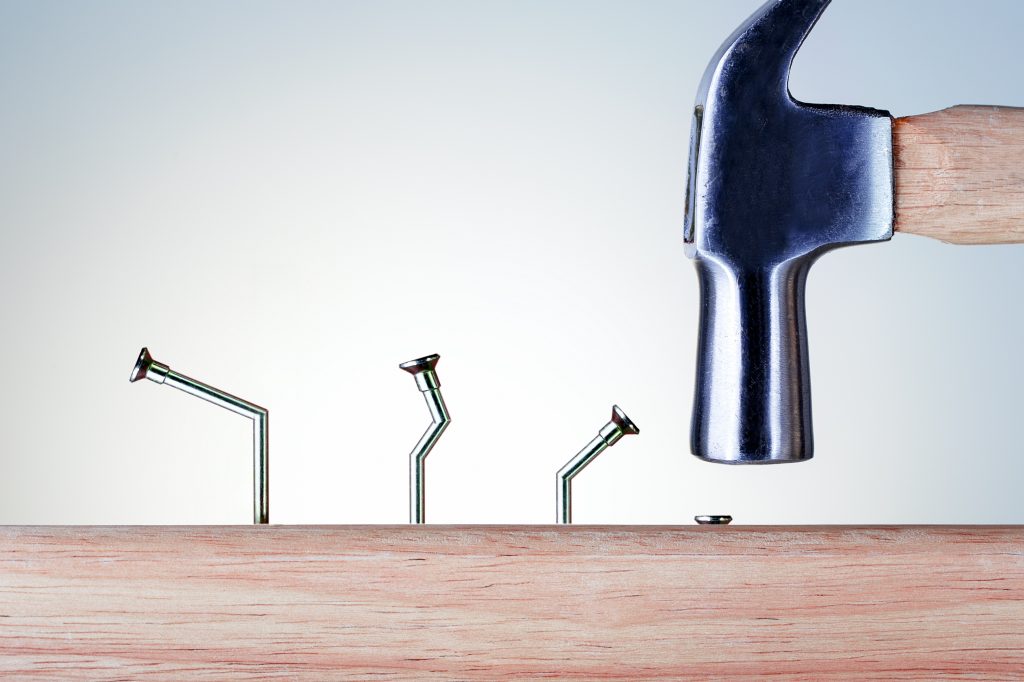 Artificial Intelligence has been around for 70+ years, but it's only in the past decade that marketers have fully embraced it.*
As it's gotten better, more and more marketers have started using it, dabbling in it, or at the very least thinking about it. One of the things that prohibits more people from trying it (besides the confusing AF lingo?) They're afraid to make mistakes.
Don't worry…  I'm not going to give you a rah-rah speech about how you CAN do it. Bob the Builder, I'm not.
What I will tell you is how you can avoid some of the mistakes I've made….
Mistake #1: Using Artificial Intelligence for a project/task that doesn't need Artificial Intelligence.
Ask anyone who knows me, and they'll tell you that I'm obsessed with two things, one of them being AI. Technically, I'm not consumed with AI itself; I'm bedeviled by how it will impact the future, but that's neither here nor there. In the past, I've gotten so excited about AI that I've used it for projects that I could just as easily have done with a spreadsheet. I've also used it for far too many projects where it's helped, but the juice hasn't been worth the squeeze. 
Solution (aka how to avoid being like me): Make sure your project or task is repetitive, data-driven, should be automated, and will be exponentially better with AI. You choose the exponent but seriously… make it at least 10% better. Remember, spreadsheets can do many things.
Mistake #2: Overusing or underusing AI-powered personalization.
Remember Goldilocks? Too hot. Too cold. Too hard. Too soft. Too large. Too small. Yadda yadda yadda. She had to try out all the porridge, the chairs, and the beds to find the one she liked best. Today, she'd be convicted of trespassing, breaking, entering, destruction of property, and cancel culture would surely nail her as a Karen.
Despite what you may think, though, the little vixen was on to something. There is a point where something is JUST RIGHT, and that's especially important to remember when it comes to hyperpersonalization. It's easy to overuse which often (a) freaks visitors out; (b) opens the privacy can of worms; (c) negatively impacts your speed and performance; and (d) decreases adoption-to-cart, conversion, and revenues.
Solution: Measure each personalization element individually and as a whole. (This is especially important on Product Detail Pages.) Keeping tabs on your results and whether the personalization is adding anything will help you determine standards for each page element/block and type on your website.  Additionally, it will help you figure out if you could benefit from more/different personalization. Remember, to be most useful, you need to measure not only the additional impact on adoption to cart and your overall conversion but the impact it may have on your speed and performance.
You can read more about using Artificial Intelligence to help you with your personalization efforts here. There's also info on personalizing your cart and checkout, offers, home and more.
Mistake #3: Not realizing that when people say "AI sees things in black-and-white," it truly means black-and-white.
At some point, Artificial Intelligence will understand and seamlessly interpret nuance but for now? Sorry about your luck. It's just not good at ambiguous things. Literal stuff? Yes. Focused tasks? Also, yes. Generalized conceptual stuff? Hard fail.
Solution: In the big scheme of things, AI is good at processing oodles and oodles of past and real-time data quickly and at scale. It's also great at narrow tasks that have specific outcomes. If you keep your projects within those lines (aka things that are black and white), it'll be a solid workhorse for you. (Yes, AI is evolving. Yes, the pink and gray marketing projects right now are sexy. And many of them have more bias/privacy/security/performance baggage than Samsonite. Start small. Grow big.)
Mistake #4: Not properly accounting for data bias
When it comes to AI projects, we're obsessed with bias. Gender bias. Ethnic bias. Racial bias. Equity Bias. And so on. In fact, companies often get so caught up in outlining all the ways that their algorithms could be biased toward human beings that they forget to mitigate data bias which can skew/tarnish/corrupt their systems and overall results.
For example, say you own a gardening company that sells plants and seeds. There will be crop and other "act of nature failures" every year. Like many other businesses, there will also be limited-supply products that sell out very quickly. And perhaps the biggest issue of all? There are zone issues. You see, each area in the country is part of a "zone" that tells you when it's best to plant your seeds and plants. If you live in Houston, you're in the gardening zone of 9A. In Vermont, you're in Zone 5. That means that in Houston, they recommend you plant seeds in October and November whereas in Vermont, they recommend you plant them in March and April. In December, when most catalogers mail their Spring gardening books, Vermonters are thinking about shovels and salt for the driveways, not planting their tomatoes and cucumbers. By the time the snow melts and Vermonters can plant, "all the good stuff" is already sold out. A marketer would easily be able to explain this but can an algorithm?
Unless properly taught, The Machine will see that people in places like Houston buy everything and Vermonters don't like new items and only buy sale/clearance stuff. It would also see people in the South buy ALL the okra, avocadoes, citrus, and many other things that Vermonters don't. (We don't have the right temperature for it to thrive.)  I could go on, but you get the drill.
Solution: Assign someone to keep track of things that might influence behavior, so you can adjust for it if needed. This can be accommodated in your data, models, and algorithms, but it's important for a historian (record-keeper).
Incidentally, all the biases listed above are important. I am in no way dismissing them. You should track them separately. You should also develop and implement pre-launch procedures to ensure you've done your best to reduce/eliminate them.
What mistakes have you made in artificial intelligence and machine learning projects? Have a tip you'd like to share? Have a question you'd like to ask? Tweet @amyafrica or write info@eightbyeight.com.
 *Sure, we've had dynamic recommendations and hyperpersonalized retargeting ads for far longer, but I am referring to REAL artificial intelligence, not simple if/then statements or things you can build in Google Docs.